NATURAL DISASTERS AND RESPONSE
Vanuatu has been ranked as the country most at risk to the effects of disasters, based on an assessment of exposure to disasters, vulnerability to their impact and the capacity to respond and recover from a disaster.
Natural disaster response is coordinated by the National Disaster Management Office. The Health Incident Management Team is responsible for coordinating the health response and operates from the National Health Emergency Operations Center. The National Health Cluster also facilitates and coordinates support from development partner organisations.
Partners should submit to the Health Promotions Unit any communications materials to be used in disaster response that include health information. Clearance of the Ministry of Health will be required prior to dissemination of any materials.
  National Health Plan for Disaster Risk Management and Climate Change Adaptation 2021-2025
Tropical Cyclone Harold Health Sector Response
BACKGROUND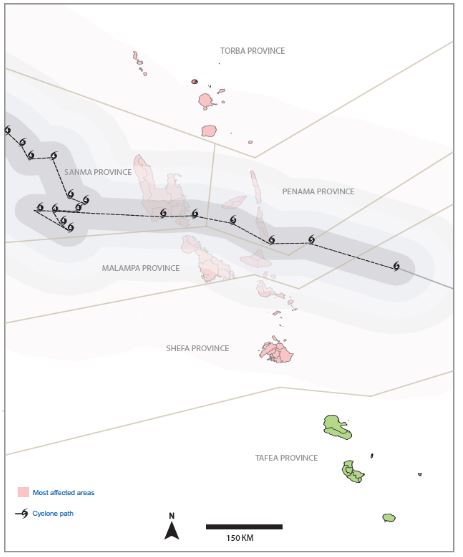 Severe Tropical Cyclone Harold (Category 5) made landfall in Vanuatu on 06 – 07 April 2020 and caused widespread and severe damage as it travelled east south-east across the country with the eye passing across Sanma, Penama and Malampa provinces. Hurricane force winds of 215KM/HR (115Knots), gusting to 235KM/HR (125Knots) were accompanied by heavy rainfalls and flash flooding over low lying areas and areas close to river banks including coastal flooding over parts. Very rough to phenomenal seas with heavy to phenomenal swells were experienced over northern and central open and coastal waters. Red alerts were issued for five of the six provinces of Vanuatu (Torba, Penama, Sanma, Malampa and Shefa).
Direct impacts of TC Harold on the health of the population in affected areas have been deaths and injuries as a result of building collapse, wind-strewn debris or existing illness. In the mid to long-term, further impacts to health are probable including increases in communicable diseases such as those that are water- or vector-borne. Short and long term mental health effects are also likely. The full extent of impact on health is not yet known.
HEALTH SECTOR RESPONSE
The potentially affected population estimated by the Vanuatu National Disaster Management Office (NDMO) from aerial assessments is 159,474 persons. Health has been identified as a sector of immediate need in Sanma, Malampa and Penama provinces.
The National Health Emergency Operations Center (NHEOC) Tropical Cyclone Harold Health Sector Response Plan includes four key objectives:
Activate the Incident Management System (IMS) and the National and Provincial Health Emergency Operations Centers (EOCs).
Initiate health facilities and communities impact and needs assessment.
Initiate priority response activities. The priority response activities are to:
Provide life-saving services and essential medical support
Maintain minimum standards for provision and access to health services
Minimise the risk of communicable disease outbreaks
Minimise risk of non-communicable disease related illnesses, including nutrition and psycho-social issues.
Produce regular Situation Reports
HEALTH FACILITY ASSESSMENTS (HFAs)
Health facilities in the cyclone path were predicted to have suffered moderate to extreme levels of damage. Evaluations commenced on 09 April 2020 using standard forms to capture information on:
damage to health buildings, medical equipment and medical supplies
health facility accessibility
referral system status
health staffing
medical supply stock
water, sanitation and power supply at health facilities
reports of deaths, injuries and any reported increases in disease
main health priorities of concern
Overview of Health Facilities Assessment 1 – Reports received by 25 May 2020


Sanma HFA outcomes
Malampa HFA outcomes
PENAMA HFA outcomes
AWARENESS MATERIALS
Various health information products are produced based on identified need. Further materials will be developed and distributed to affected areas as required.
Key Public Health Messages Information Booklet
Leptospirosis Information Brochure
Kakae blong Pikinini Information Brochure
Diarrhoea Information Brochure
Water Purification Tablet Brochure