Directorate of Policy, Planning and Corporate Services
The Corporate Services Mission is to provide Policy, coordination, advice and support services to enable a fair, equitable and accessible health system that is delivered efficiently and effectively. This is done through the implementation of the Ministry's Business Plan and Health Sector Strategy. The members of the corporate services fully recognize the challenges the health sector faces in producing equitable and reliable services that meets the demands of everyone.
The corporate services fulfilled a number of key achievements in 2017. Additionally, with the changes in the political environment, the Directorate of Corporate Services have also had its fair share of challenges.
Objectives
Strategic level plans are in place to provide direction for business planning and annual budgeting cycles
Corporate support services are readily available for efficient functioning of the Ministry and delivery of health services throughout Vanuatu.
Health Information System (HIS) reach is enhanced, including improvements in volume and quality of data to enable decision making.
Facility and equipment repairs and upgrades are implemented against an annual Capital Plan supported by the MoH Executive.
Key corporate functions are developed through Development Partner (DP) Technical Advisory (TA) services and in-service training opportunities for staff.
Means of Service Delivery
Develop Health Sector Strategy (HSS) 2017 - 2020 for MoH through integrated planning approach across Directorates and with Development Partners.
Increase interaction of national Corporate Services with Public Health and Provincial Hospital and Community Health Services.
Expand IT services to increase HIS reach and increase reporting rates.
Conduct regular meetings with Director General and the Ministry Executive.
Establishment and management of a Human Resource Management Information System (HRMIS).
Establishment of a Capital Plan for large scale Capital works and equipment replacement and repair programs.
Establish good governance structures and regular meeting frameworks within the Corporate Services.
Support Provincial Corporate Services with national level oversight, training and development of staff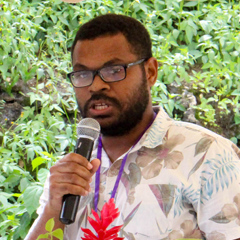 Samuel Posikai Tapo
Director of Policy, Planning and Corporate Services
Current