Overview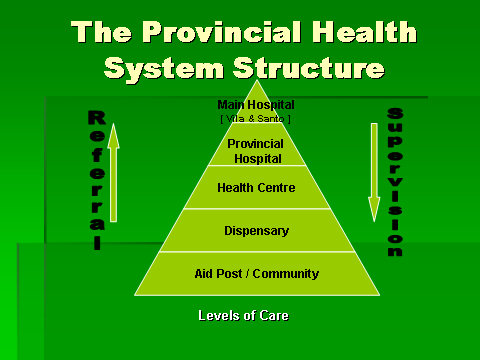 Services Provided
Provide a summary of the services provided by the Hospital across curative and preventative services but also for administration and ancillary support services for efficient and effective service delivery. Table 1 Lists all services provided, which can be checked and remarks provided:
Table 1: Hospital Services Provided

Services Provided

Availablity

Administrative Services

Administration

YES

Human Resources

YES

Finance Management

YES

Health Information Systems

Hospital Supplies

YES

Switch Board

Nursing Services

General Nursing Services

YES

Specialised Nursing Services

YES

Midwifery Services

YES

Nurse Practitioner Services

YES

Nursing Anaesthesia

YES

Eye Care

YES

Ear, Norse and Throat (ENT)

YES

Medical Services

Outpatient Department

YES

Anaesthesia and Intensive Care

YES

Paediatrics

YES

Obstetrics & Gynaecology

YES

Surgery

no

Internal Medicine

no

Ophthalmology

no

ENT

YES

Accident and Emergency

YES

Radiology

YES

Pathology

YES

Mental Health

NO

Allied Health Services

Laboratory Services

YES

Medical Imaging Services

YES

Oral Health Services

YES

Pharmacy Services

YES

Dietetics

NO

Physiotherapy

NO

General Services

Maintenance Services

YES

Carpentry Services

YES

Electrical Services

YES

Plumbing Services

YES

Waste Management Services

YES

Motor Mechanical Services

YES

Gardening Services

YES

Medical Gas Services

YES

House Keeping Services

YES

Social Work

Kitchen Services

YES

Laundry Services

YES

Transport Services

YES

Security Services

NO

Biomedical Services

NO
Objectives
To protect, promote and improve health to all people
To provide health services to all people
To provide quality care to all in patients
To treat all people who come in OPD
To carry out investigation to clients who need it.
Means of Services Delivery
To provide nursing care services to all out patients and in patients
To provide test investigations through laboratory and radiology services
To provide diagnosis through medical services by doctors
To provide treatment services through pharmacy
To provide health education and follow up plans by doctor, nurses etc.
To provide dental services by dentist
Key Archievements
Establishment of dental services with return of Dr Mackenzie Sitobata
Establishment of HoD framework within Norsup Hospital in accordance with new organisational structure.
Improvement of inpatient bed rooms with new beds and curtains
Installation of new lighting and air condition in theatre
Partially repair of x-ray machine-need to have new battery for completion
Reach to X% of population away from hospital facilities by clinical outreach visits, conducting XX consultations and XX referrals for follow-up treatment through secondary and tertiary services
Continuing professional Development (CPD) of clinicians through Medical Workforce Support Program with XX courses run in x,y,z topics, for a total of xx personnel trained.